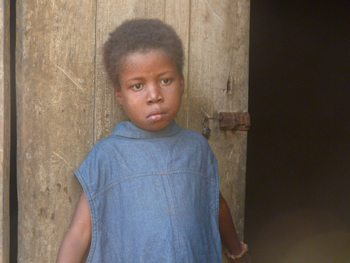 The Committee on the Rights of the Child has examined the reports handed out by Togo regarding the situation of children's rights.
On January 23rd, when considering the report submitted by Togo under the Convention on the Rights of the Child, the Committee's spokesman, Mr. Kotrane acknowledged that, on the whole, the legal framework is in Togo largely in line with the Convention; yet, he expressed doubts about the possibility for Togo to meet the challenge of achieving education for all by 2015, as stipulated in the Millennium Development Goals.
In addition, referring to Art. 7 of the CRC (Committee on the Rights of the Child), he recalled that 51.2% of children are not registered at birth (see our project on the subject of action against trafficking in this country). The Spokesman also noted with concern that early and forced marriages as well as polygamy continue to be widely practiced. Finally, as regards the principle of non-discrimination enshrined in the Constitution of Togo, Mr. Kotrane said that it was applicable only to Togolese citizens and that vulnerable groups of children – especially girls and disabled children – were subject to persistent discrimination.
Regarding the review on the measures taken by Togo against sexual exploitation of children under the Optional Protocol, the Spokesman, Ms. Nores, said that Togolese law does not take into account the offenses set out in Articles 3 of the protocol and that there was no law defining the sale of children as contained in Article 2 of the Protocol. She also expressed concern over the extent of prostitution, saying that prostitution between the ages of 15 and 18 was not prohibited. Ms. Nores concluded her remarks by highlighting that the penalties to be imposed on offenders under child pornography laws are too weak to be effective deterrents.
Committee members also felt that Togo should align its legislation with all the provisions of the Convention and undertake efforts to ensure that the voice of the child is heard.
"Children's pleas must reach up to the National Committee for the Rights of the Child", Mr. Kotrane insisted. Like him, Ms. Nores expressed the wish to see Togolese law changed because issues such as the sale of children and prostitution are still hampering the full implementation of the Protocol in Togo.