Discussions, dialogues, presentations and exchanges of significant practices were the keynotes of the 3rd annual seminar for BICE's Childhood without Bars project, currently underway in 5 countries of the region.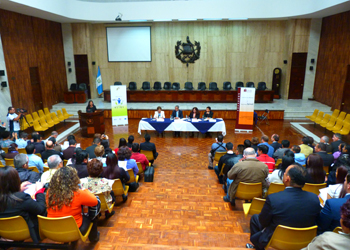 Over 300 people gathered at this event in Guatemala, in support of the humanisation of justice for children in conflict with the law, and to promote the application of alternatives to imprisonment.
This event was organised by BICE, in collaboration with the ICCPG (Instituto de Estudios Comparados en Ciencias Penales de Guatemala) and the ODHAG (Oficina de Derechos Humanos del Arzobispado de Guatemala), and held in Guatemala City on the 24 to 27 October. In a difficult political climate (presidential elections), strong insecurity and repressive public policies, the meeting had a very positive impact. The legal profession, the media and Guatemalan civil society were all strongly represented.
Participants in the 3rd annual seminar of « Childhood out of prison bars » wished to pass a strong message to everyone involved in juvenile justice, as well as to civil society as a whole. Yes, there are alternatives to imprisonment ; socio-educative measures reinforce family and community ties, and enable the adolescent to assume his responsibilities, make reparations for any wrong-doing, and build a family and professional life.
Lawyers, judges, journalists and NGO officials led discussions on systems of juvenile justice in Latin America, and on the central role of the media in raising awareness in the general population. For them, it is important to show society, in particular the authorities, that the principles underlying restorative justice and the application of alternative measures to imprisonment promote the social and professional rehabilitation of children in conflict with the law.
This seminar also served as an exchange of good practice guidelines for juvenile justice, led by experts and professionals in the matter. All the material and methods of intervention in different Latin American countries are available online (upload Spanish versions here).
Participants also worked on recommendations, to be published as part of the Childhood without Bars project, to facilitate measures of advocacy for the application of public policies which respect human rights, particularly those of children.