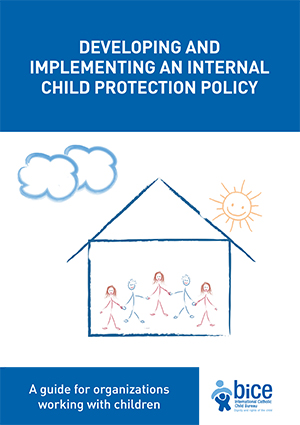 A practical guide published in four languages for use by any child-oriented structure.
It declares the duties and responsibilities of the organization, lists the measures to be implemented to protect children from any violence and abuse which may be committed within the structure or from outside it.
It also defines prevention and the means of action to be set up. Such a policy establishes a protocol to be followed if a case of abuse is suspected or found.
Finally, it allows the identification of the elements that would contribute to the creation of a more protective environment of well-being.
The guide "Developing and implementing an internal child protection policy"
This guide of around hundred pages is primarily designed to train and accompany BICE member organizations in the development of their own child protection policy.
The book has been published in four languages (English, French, Russian and Spanish) and will be used in the coming months as a support in the training of over 400 professionals in the BICE network present on four continents.
It addresses both the legal context as well as the practical measures to be implemented. Encouragement to constantly move towards a climate of well-being, the prevention and handling of potential cases of abuse in institutions or NGOs accompanying children, are also included in BICE's perimeter of constant vigilance.
First training sessions in the implementation of child protection policies
Guatemala was the first country to work with BICE on this. Twelve organizations were trained in the child protection policy by BICE in 2014; they are now ready and will, in turn, be training other local organizations in this practice.
The BICE child protection policy (CPP) was then presented to a network of organizations in Paraguay and in Argentina.
In 2015, other countries in Africa and Eastern Europe will follow training workshops on the CPP in BICE's new program in the fight against sexual abuse.
The guide "Developing and implementing an internal child protection policy" is available upon request and refund of shipping costs. Contact BICE to acquire it, and to get more information.