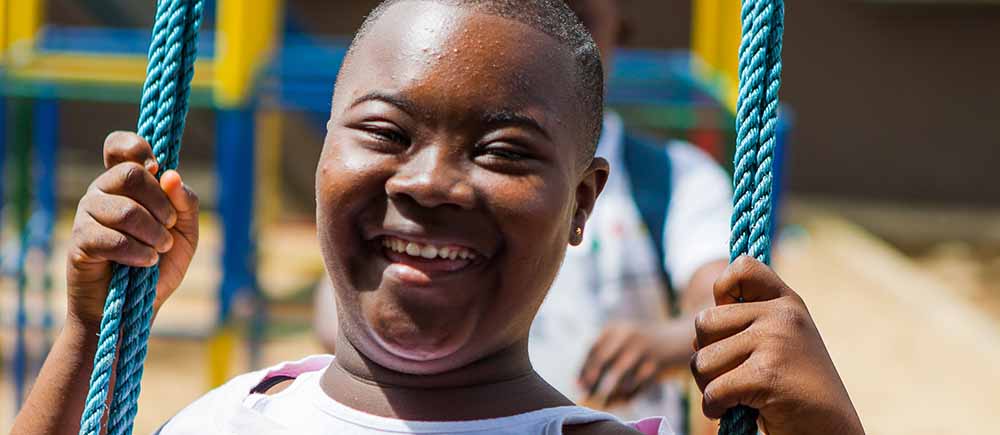 In Ivory Coast, children with disabilities are particularly vulnerable and often neglected. According to traditional beliefs, the handicapped child is suspected of witchcraft.
Ancestral tradition calls for the ritual killing of children with disabilities.
If he is not killed, he must be looked after by those who cannot avoid it : his parents, and above all his mother.
Sometimes the mother is sent away with the child and must look after him alone. The scant resources available to most poor families are devoted to children without disabilities.
Faced with this violation of children's rights, BICE acts to promote adequate care for disabled children, and to destigmatize handicap in Ivory Coast.
BICE acts on behalf of children with disabilities
For the last ten years in Abidjan, the economic capital of Ivory Coast, BICE has supported a daycare centre for children with physical or mental disabilities.
The aim of the project is to enable children with disabilities and their parents to have access to healthcare, specialised education, play activities, a social life and as much autonomy as possible.
Parents can also receive counselling and the support they need.
Activities for children with disabilities in Ivory Coast
The Centre's activities are carried out in partnership with the local association DDE-CI.
1. Teaching, sport and social activities :
Early learning for very young children
Twice-weekly educational activities and games between neighbourhood children and children with disabilities
Sports and training of a group of children for the « Special Olympics »
Basic education, adapted for children with disabilities who are not in school
2. Medical activities :
Weekly medical consultations
Physiotherapy sessions adapted to the child's disability
Orthopedic and other surgical procedures
Fabrication of prostheses and braces
3. Activities with parents :
Psychological and moral support for parents, with a multidisciplinary team
A meeting place for parents
Association for parents of children with disabilities: l'APEH Yop
Testimonial
Kapi, handicapped and Olympic gold medalist
Kapi is a child with cerebral palsy.
Born on the 22 June 1993, Kapi spent three years at the CESEH in early learning activities, and now practices sport.
He participated in the Athens Special Olympics in 2011, where he won a gold medal for basketball. His mother tells us his story :
I was often ill during my pregnancy with Kapi. I had bouts of malaria throughout the pregnancy.
It was an easy birth, but he went into a light coma two days after he was born. The midwives revived him, and no-one noticed anything. At six months, Kapi couldn't sit, and the midwives said he had motor development delays.
One day, listening to the radio, I heard about the CESEH. I enrolled my son in October 2006.
Three years later, he had made enormous progress, especially in basketball.
In June 2011, he went to Greece for the Special Olympics. When he came home with a gold medal, the family and all the neighbourhood were very proud of him.
Today, the attitude of the community and his family has changed. He is respected.
He takes care of himself, and dresses well. He can type on the computer.
I would like to thank BICE and all the staff of DDE-CI, for giving my son a future.