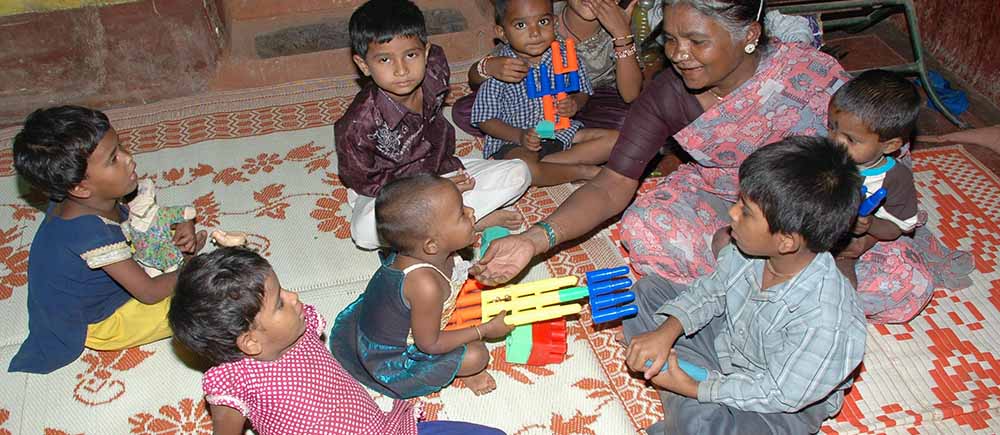 Childcare for toddlers in India is problematic for working mothers. There are few structures that are suitable for the accommodation of young children therefore children stay with their mothers in the workplace.
This reality is even harsher for those in the region of Bangalore (South India) where many mothers are forced to take their young children to silk factories.
Children stay the entire day on the factory floor with unsanitary conditions. They become very vulnerable to lung and respiratory diseases and are often burned by acid fumes from the silk extraction process.
BICE acts for young children in India
Since 2012, BICE and its local partner Aina Trust have lead a pilot project of community nurseries and have trained nursery assistants in the city of Sidlaghatta.
The objective of this project is to sustainably improve the well-being and development of the toddlers of silk workers by offering support adapted to the socio-economic context of families and reassuring them about their role as parents.
Activities around early awakening
Several activities are jointly conducted in community care centers and with families:
Training for nursery assistants
Accommodation for toddlers during the day at the homes of nursery assistants
Provision of toys and educational tools for children
Creation and development of a space suitable for recreational and leisure activities for nursery assistants
Healthy meal preparation, consistent with the nutritional needs of toddlers
Regular medical monitoring
Trainings for mothers and the community to support toddlers thanks to workshops on hygiene, nutrition, safety, disease, child rights, etc.
Testimonial
Mandju's testimony, mother of Gita
Mandju is a silk worker. Without any help, she took her daughter one year old daughter Gita to the factory every day.
At one year old, my daughter was crawling everywhere. I had to attach her to a rope so she wouldn't injure herself. She would not move throughout the day and her legs became atrophied. She no longer walked nor ate, and she cried often. I did not have the means to take care of her and she wouldn't recover.
My neighbor told me about the center for toddlers at Sidlaghatta. The staff at Aina Trust helped heal Gita and mainly taught me how to take care of oneself.
Now, every day, I leave her with a nursery assistant and I can work at ease the factory. Gita has made tremendous progress: she walks, is learning how to eat alone and sings nursery rhymes. Regularly, we go see a doctor and I participate in workshops on child nutrition.
I see that Gita is happier and more content since she started being taken care of by the nursery assistants. I sincerely thank BICE and Aina Trust for their support.