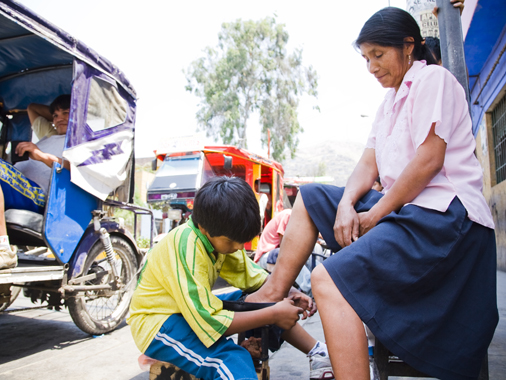 Forced Child Labour and Child Workers
The problem of child labour is more complex than it appears. BICE makes a clear distinction between forced child labour and child workers. In the first case, BICE condemns all forms of exploitative child labour and fights firmly against the worst forms of this exploitation. These activities must be eradicated and their instigators prosecuted. In contrast, we work for the recognition of children's rights in situations where for social, economic and cultural reasons child labour is unavoidable. This work must be adapted to their age and their rights, including the right to education, and be paid at a fair rate.
BICE is against forced child labour
As an illustration of this, our project in Togo is designed to protect 600 children a year directly and, more broadly, to influence the issue on a national level. Care for child victims, emergency hotlines, public awareness and media, advocacy at a national and international level are among our current actions in Togo.
Defend the rights of child workers
Different countries' cultural and socio-economic situations require us to act with discretion on the issue of child labour.
This is in no way to defend child labour, but rather to defend the rights of child workers.
In Paraguay, together with our partner association Callescuela, we have established a programme of daily support for 300 families:
Tutoring to help child workers to continue their studies
Training and awareness-raising for groups of parents and child workers, on the risks of violence and ways to prevent it
Organization of a daily snack to ensure a minimum nutritional intake for children