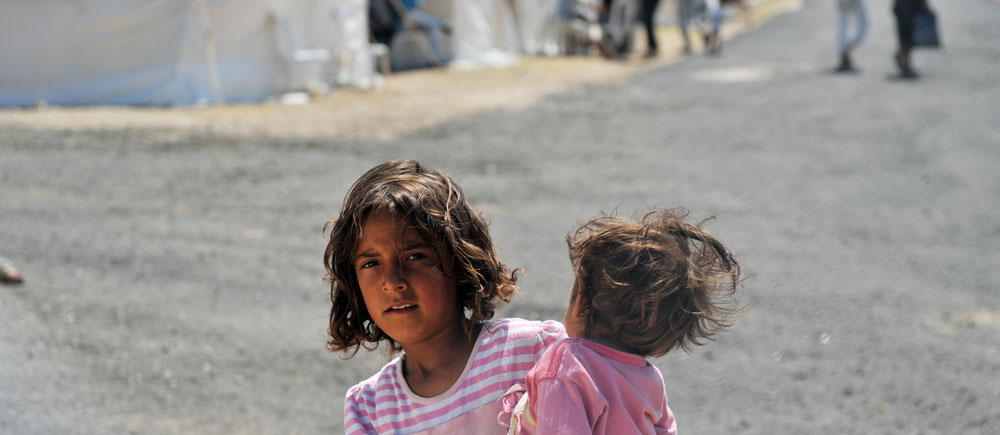 Children in armed conflicts
Child in armed conflicts require specific, long-term care. BICE does not intervene in humanitarian emergencies, nor does it provide vital humanitarian aid.
Our work is conducted either parallel to the conflict or afterwards, when reconstruction is needed.
The aim of BICE and its partners is to help children recover their balance and faith in the future, in the aftermath of the trauma.
What is a child victim of conflict?
There are several types of child victims of conflict:
child victims of armed conflicts: during and after conflict, and through no fault of their own, children are exposed to bombings, fighting, deprivation, etc. They are part of the civilian casualties.
Displaced children

Refugee children: due to conflict, violence, and natural disasters, children and their families flee their country and seek refuge in neighboring countries. They therefore possess specific rights.
Children displaced internally: most of the time, children move around in their own country to escape fighting.
Unaccompanied children: children who have been separated from their families due to conflict. They are alone but not necessarily orphans.

Children in armed conflict: these children are under 18 years old, and are recruited by force or by abduction, have enlisted to escape poverty, abuse or discrimination. They are used as fighters, messengers, porters, cooks and to provide sexual services.
BICE works for child in armed conflicts
Children in conflict are the first victims and are the ones who are most marked. For these children, emergency aid is no longer enough.
Building peace is a challenge for countries at war and for their populations, who have suffered for too many years. Wounds and injuries leave many marked for life and destroy entire generations of children.
BICE and its partners believe that building peace means:
Learning to trust,
Finding roots and fundamental values that enable life in society,
Relearning a respect for the law, and reconstructing a rule of law.
Over the past 15 years, BICE and its partners have been involved in several conflict zones: Liberia, DR Congo, Ivory Coast, Mali, Syria, etc.
Each time, our involvement has been to provide counselling for children. In certain situations, our project included searches for families in the case of large population displacements, or the prevention of risks related to explosives that are still active.
Number of child victims of conflict supported by BICE
Syria: 1,400 children in 2014-2015
Mali: 25,000 children in 2012-2013
DRC: 10,000 children during 2001-2012
Ivory Coast : 1,000 children