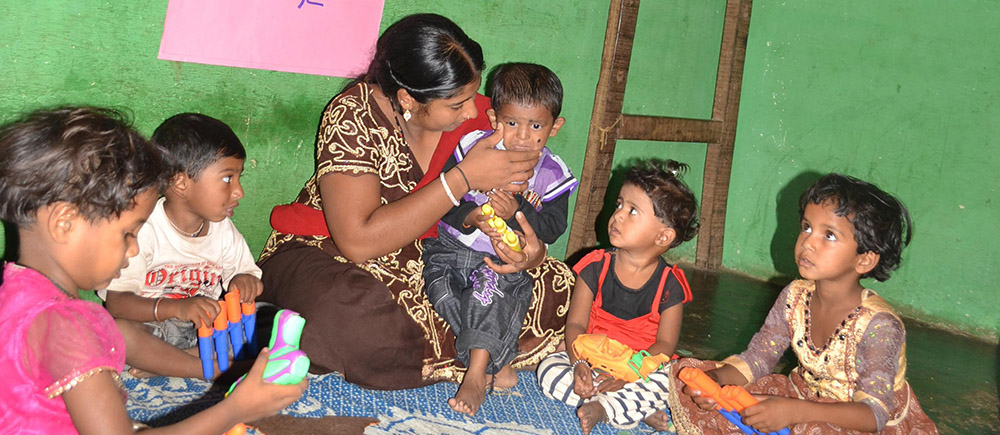 Until 2012, most mothers working in the Indian Bangalore region's silk factories took their young children with them to their work-place, exposing them to factory hazards for want of care solutions.
Child minders to take care of children
The pilot project, launched in March 2012 has enabled dozens of toddlers to enjoy better living conditions, better suited to their age. After a day's work, moms pick up their child at one of 15 centers created to offer these children a welcoming space to play, eat and sleep. Fifteen child minders, hired from the community, have received extensive training and have been hosting four children each for the past few months.
These children also benefit from nutritional and medical care. The referring physician visits daycare premises quite regularly to perform general medical examinations and monitor children's size and weight.
Training sessions are also organized for mothers and child minders on topics such as job responsibilities and child minders' specific role, health and child care, nutrition and food preparation, home care, child safety, etc.
One year after the project started, a mother says:
"I have two sons. I work in the silk factory. Before the project, I was at a loss about taking care of my two (3 and 2 year-old) children. I used to arrive at the workplace early in the morning and get back home late in the evening. During working hours, I would bring my children along at the workplace, keeping the younger one in an sling and the elder tied to a rope. But now, I am so happy to benefit from the services of an "early childhood center", where children can enjoy spending the day with babysitters and playing with their peers. I mean to thank BICE and Aina Trust from the bottom of my heart."
There is still much room for improvement as regards toddlers
Noting the tangible results of the "right to a worthwhile childhood", many mothers are now asking to be included. BICE's operational partner, Aina Trust, says there are still about 200 children deprived of a safe and healthy environment in the city; they are left to themselves while their mothers are at work, even infants, too.
Moreover, Aina Trust has just launched a support group made up of mothers and child minders, geared to enable them to create their own income generating activities. This would allow many women currently working in the factory and suffering from respiratory infections – unfortunately very common there – to find other professional alternatives to working in silk factories.
BICE welcomes these positive results and is currently seeking funding to expand the pilot project for more children to benefit.