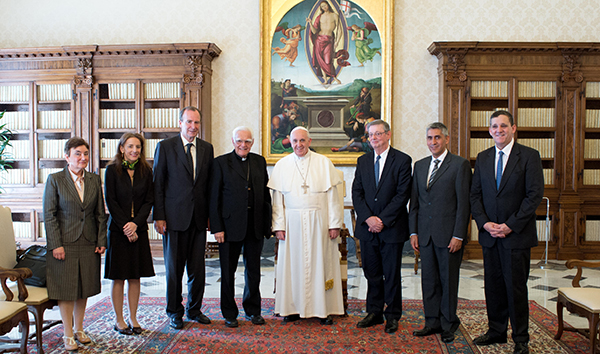 A delegation from BICE met Pope Francis today at the Vatican. The defense of children's rights was at the heart of this private audience.
During his speech, the Holy Father noted the 60 year + commitment of BICE for the defense of the rights of minors and underlined the importance of projects concerning the exploitation through labor, child soldiers and any type of violence against children.
On another note, the Holy Father also placed emphasis on the need to support parents in the religious and moral education of their children, speaking against educational experimentation with children and against the dangers of "one single way of thinking".
The BICE delegation, for its part, highlighted the importance of the issues dealt with by the organization for many years: education, restorative juvenile justice, the fight against all forms of violence and the prevention of sexual abuse, especially referring to the courses designed by the organization for institutions working with children.
On this subject, the Pope spoke in response to the gratitude expressed by BICE for his determination to combat the problems of sexual abuse within the Church:
"I feel called to take responsibility for the horrors committed by a number of priests and to ask forgiveness for the harm caused by the sexual abuse on children. " The Church is aware of the personal and moral damages brought about by these men of the Church.
We do not want to hesitate in dealing with this problem, and in applying the necessary sanctions. On the contrary, I think they must be very tough. Children are to be taken very seriously."
BICE also expressed its gratitude for the commitment of the Apostolic Nunciature and the State Secretary in the fruitful collaboration with the Catholic–inspired NGO Forum in Geneva by stressing the importance of continuing to promote this dialogue to better carry forth children's voices in international institutions such as the UN. And this, particularly in 2014, the year which marks the 25th anniversary of the adoption of the Convention on the Children's rights.
Therefore, BICE recalled that the Vatican was the 4th State to ratify this Convention, a very strong signal of the attention given by the Vatican to the protection of children, which should carry on again and always to a better implementation of this Treaty.