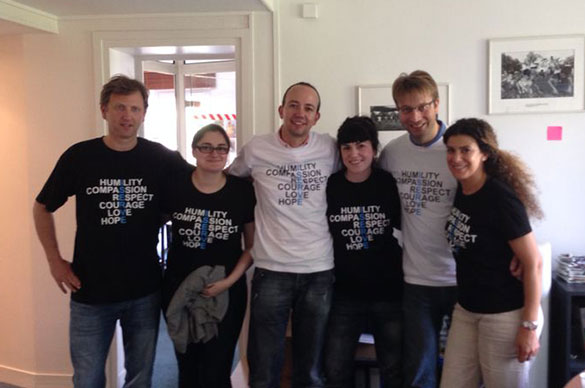 Volunteering
To support the mission of the association, BICE is always looking for volunteers, especially in Paris. Our Catholic association allows you to develop your skills (animation, archive, home ...) while serving the rights of the child. If civic engagement interests you, do not hesitate to contact us!
Why volunteer with BICE?
The International Catholic Child Bureau is a non-profit committed to defend the dignity and rights of children. The means of our NGOs are limited. Although we seek to do as much as possible, we are financially limited. With the help of our volunteers, our Catholic association can devote its time and its efforts to acting effectively for children's rights.
Why should I volunteer ?
BICE allows you to enhance or develop your skills. Your civic engagement will be an opportunity to meet staff and volunteers from all backgrounds. We will happily introduce you to the organization and welcome you warmly each time you come. Twice a year we organize a volunteer banquet which allows everyone to share their missions.
Volunteering with the International Catholic Child Bureau will allow you to discover how an NGO child protection works. You will be involved at the heart of the association's missions.
Volunteering in Paris: What are my responsibilities?
Classifying documents
Administrative tasks, manual or computer
Translation: French to English or Spanish.
Help at our events: Visitor (check-in), activities, BICE booth, subtitling films …
Volunteering in Paris can be occasional or regular and we will gladly work around your schedule.
Click here to see our current volunteer locations: www.espacebenevolat.org
Do not hesitate to contact us to discuss: 01 53 35 01 00 or email.
Is volunteering abroad possible?
Our Catholic association does not send volunteer on field projects, which are managed directly by local partner associations. Some special requests may be transferred to our partners.
Testimonials
Anne-Catherine, volunteering since 1999
"Volunteering at BICE allows me to contribute to a very modest scale, to actions taken on the ground because we can not accept time for those working in NGOs that work. My engament associative BICE began in 1999. This shows the importance I give to actions of the association. "
Ludivine, Apolline and Selymata, students and volunteers at the congress organized by the ICCB 2013
"I wanted to help and be useful."
"I am very happy, this is a very good experience."
"Volunteering? I would do it again!"