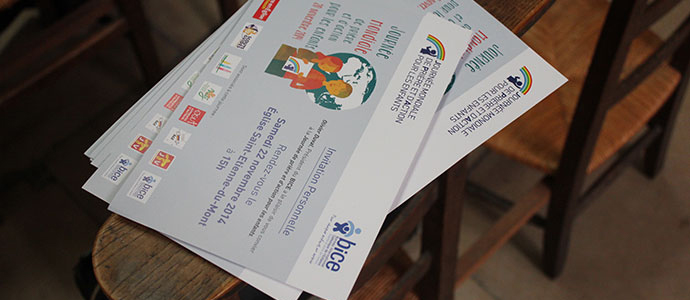 The World Day of Prayer and Action for Children is held annually on November 20th. It brings a spiritual dimension to the Universal Children's day.
Since its launch in 2008, this day is an interreligious prayer gathering to show respect of the rights of children. Religious leaders of all faiths, children and adults are invited to unite in prayer and action on behalf of those whose rights are too often violated.
85 countries and thousands of participants united for a single cause
The initiative develops through events organized in 85 countries around the world. The Day of Prayer and Action for Children is supported by UNICEF and by different NGOs. It has received encouragement from Marta Santos Pais, Special Representative of the UN Secretary General on violence against children.
As a Catholic association, the International Catholic Child Bureau joins this initiative. It continues to promote it in France and works with its global network of defenders for the rights of the child.
To learn more, visit the site: www.dayofprayerandaction.org
A unifying theme: stop violence against children
Until 2015, the international theme has been "Stop violence against children." All initiatives, from the most local to the most international, must contribute to this cry of indignation as much as possible. It is a battle fought daily by BICE, in all its actions against ill-treatment.
Participate with BICE
The International Catholic Child Bureau offers children, teenagers and adults to participate in the World Day of Prayer and Action for Children. Catechism groups, youth groups, pastoral school leaders, parishes, child protection associations: celebrate this day in your community with the help of the site www.prierpourlesenfants.org.
Designed and maintained by BICE, we provide in French:
A practical guide to entertainment
Ideas to guide your prayer time for children
Photos and videos
The list of events organized in France
A form to submit a prayer intention for children