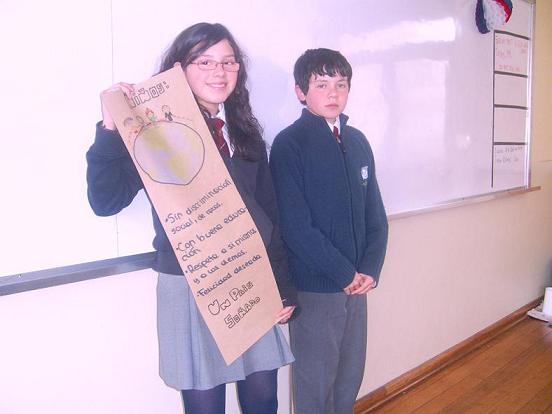 In January 2014, Chile submitted its report on the state of human rights and lent itself to the UN Council of Human Rights process of questions and recommendations. Each UN member country is regularly subjected to this process in the framework of the Universal Periodic Review. This is the second time Chile has accepted this exercise.
BICE advocacy in favor of child rights in Chile
Thanks to his knowledge of the situation in the field, BICE had submitted an alternative report prior to the examination, written jointly with three other international organizations *; it was presented during the pre-session organized by the end of last year (read the article " Human Rights in Chile soon to be addressed at the United Nations " )
States concerned with the protection of child rights
Informing children about their rights and their access to justice have been raised by many states. Poland, Estonia, Spain and Honduras have called, as recommended by BICE, for the creation of the institution of an ombudsman for children. Brazil recommended adopting a law to protect children fully, in accordance with the rights guaranteed by the Convention on the Rights of the Child.
Chile was called by the United Kingdom, Argentina, Czech Republic, France and Germany to fight against all forms of discrimination, including against Mapuche children .
13 countries ** recommended Chile to take action to prevent sexual abuse against children and fight against trafficking in human beings.
Measures in favor of a quality education system accessible to all were recommended by Ecuador, the United Kingdom, Belarus, Indonesia, Malaysia, Oman, Portugal, Singapore and Sri Lanka. Slovenia and Estonia have recommended guaranteed access to education for indigenous peoples, particularly girls. Finally, Spain has recommended ensuring the enrollment of children of non-regularized immigrants.
Egypt, Moldova and Spain have recommended that Chile adopt a specialized justice system for minors. Austria urged Chile to implement alternatives to detention while Moldova has recommended developing a system for the rehabilitation of children in conflict with the law.
Several states have relayed BICE's concerns following allegations of police brutality during the 2011 student protests but also against indigenous peoples. Uzbekistan, Canada, Cuba, Cyprus and recommended that investigations be conducted. Norway recommended continuing to bring to justice officers perpetrating violations of human rights. Morocco and Nicaragua have asked Chile to organize training in human rights for police officers and the judiciary.
During the examination, the Chilean delegation brought some answers to the questions and responded to these recommendations. BICE hopes all recommendations will be accepted by Chile. We are attentive to the implementation of these recommendations and mobilize our partners in this direction.
* Marist Foundation for International Solidarity ( FMSI ) , the Istituto Internazionale Maria Ausiliatrice ( IIMA ) and International Volunteerism Organization for Women , Education , Development ( EMPTY International)
** United States , Yemen, Algeria , Belarus, Bhutan, Guatemala , Iran , Iraq, Italy, Liechtenstein , Mexico , Moldova and Russia
To go further :