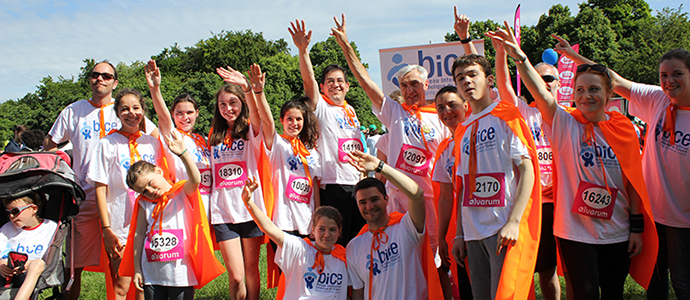 Mobilise, raise funds, get together ! Since 2012, BICE has participated in the Heroes Race, a community sports event organised each year in the park of St Cloud, Paris.
Each participant has two challenges :
Raise at least 250€ for a charitable organisation, such as BICE
Race 6 or 10 km or walk 6 km with all other heroes on the day
The Heroes Race is a festive event, with lots of surprises for participants : collective warm-up, costume competition, flash-mob, picnic after the race, prizes for the best fundraisers…
>> Learn more
BICE at the Heroes Race
Since 2012, our team of runners has been growing : from 9 participants the first year to 26 last year!
The Heroes Race is a special occasion for our donors, partners, volunteers, employees, schoolchildren and businesses… all committed to the same cause : the defence of children's rights in the world.
Each year, we dedicate the funds raised by the Heroes Race to a specific project :
In 2012 : over 4 000 € raised for a disability centre in Côte d'Ivoire
In 2013 : over 8 000 € raised for the organisation Callescuela in Paraguay
In 2014 over 14 000 € raised to help 1400 child victims of conflict in Syria
Some testimonials
« We're doing our baccalauréat tomorrow, but it's important to think of others. To raise money, we organised a cake sale which worked very well !» Charlotte, Clémence et Mathilde
« For my birthday, I asked all my work colleagues to sponsor me for the Hereos Race, instead of buying me a present. » Sophie
« I wanted to help children and not feel so helpless confronted with their need. Getting involved in charity projects is a way of helping that I couldn't have found on my own. » Lucy
A way for businesses to involve their collaborators
The Heroes Race is a unique opportunity to communicate your business values :
Internally, thanks to an unforgettable team building experience for your collaborators
Externally, thanks to a concrete demonstration of your social commitment to an organisation for children's rights
>> Contact us to find out more : contact@bice.org – 01 53 35 01 00