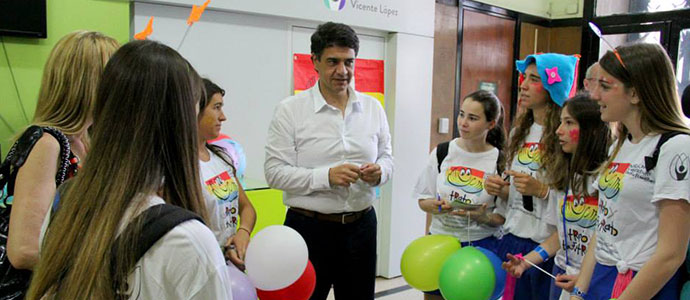 Via the combined efforts between BICE and 20 local partners, the campaign, "a treatment for well-treatment" is developing in Latin America.
The project, "Well-treatment," the fight against violence, which BICE and its partners have carried out in Latin America, has been renewed in 2014-2015.
At the heart of the plan which is progressing from year to year, lies the campaign "a treatment for well-treatment", a public awareness operation carried out by adolescents.
Originally, Un trato por el buentrato, is an initiative launched in Uruguay with the help of BICE.
In the past few years, it has spread to neighbouring countries: Chile in the autumn of 2014, 45,000 people of all ages had received a symbolic "vaccine" against violence.
In Argentina, the campaign has also been very successful. After Uruguay, Argentina and Chile, for the first time in 2015, 20 of BICE's partners have joined forces today to spread the campaign in Guatemala – 2,500 children, adolescents, parents and even grand-parents are concerned in urban zones as well as rural communities.
Campaign: "A treatment for well-treatment," how it works.
Children and adolescent volunteers who promote this campaign are firstly trained.
Subsequently, the campaign for well-treatment which is supported financially by UNESCO, aims to send these young people in public places to stop and talk to the adults and their peers.
Those who accept to listen and talk and who are committed against violence are therefore "vaccinated": they receive a sweet or badge as a substitute for a vaccine and a vaccination booklet to raise awareness around them.
These campaigns enable young people to:
Improve awareness of the rights of children
Alert other children, adolescents and adults of the consequences of child violence and abuse.
Promote a change in attitudes in adults and generate a personal and community commitment in favour of a well-treatment culture. At the daily level, the objective of the campaign is that adults, through concrete actions, listen to the children, attach importance to whatever they say and commit to protect them against all forms of violence or abuse.
Campaign video Well-treatment

(in french)
A positive assessment presented to UNESCO at the end of February
The report undertaken for UNESCO and sent at the end of February draws up quite a positive assessment concerning this campaign, not only in Guatemala but also in Chile or in Argentina.
Evidence of this success: school principals, council civil servants, families and ministries have let themselves be called upon and moved emotionally as well.
Indeed, in these three countries, the campaign A treatment for well-treatment has affected about 50,000 beneficiaries directly and even more beneficiaries indirectly.